A Guide to Notebooks & Honey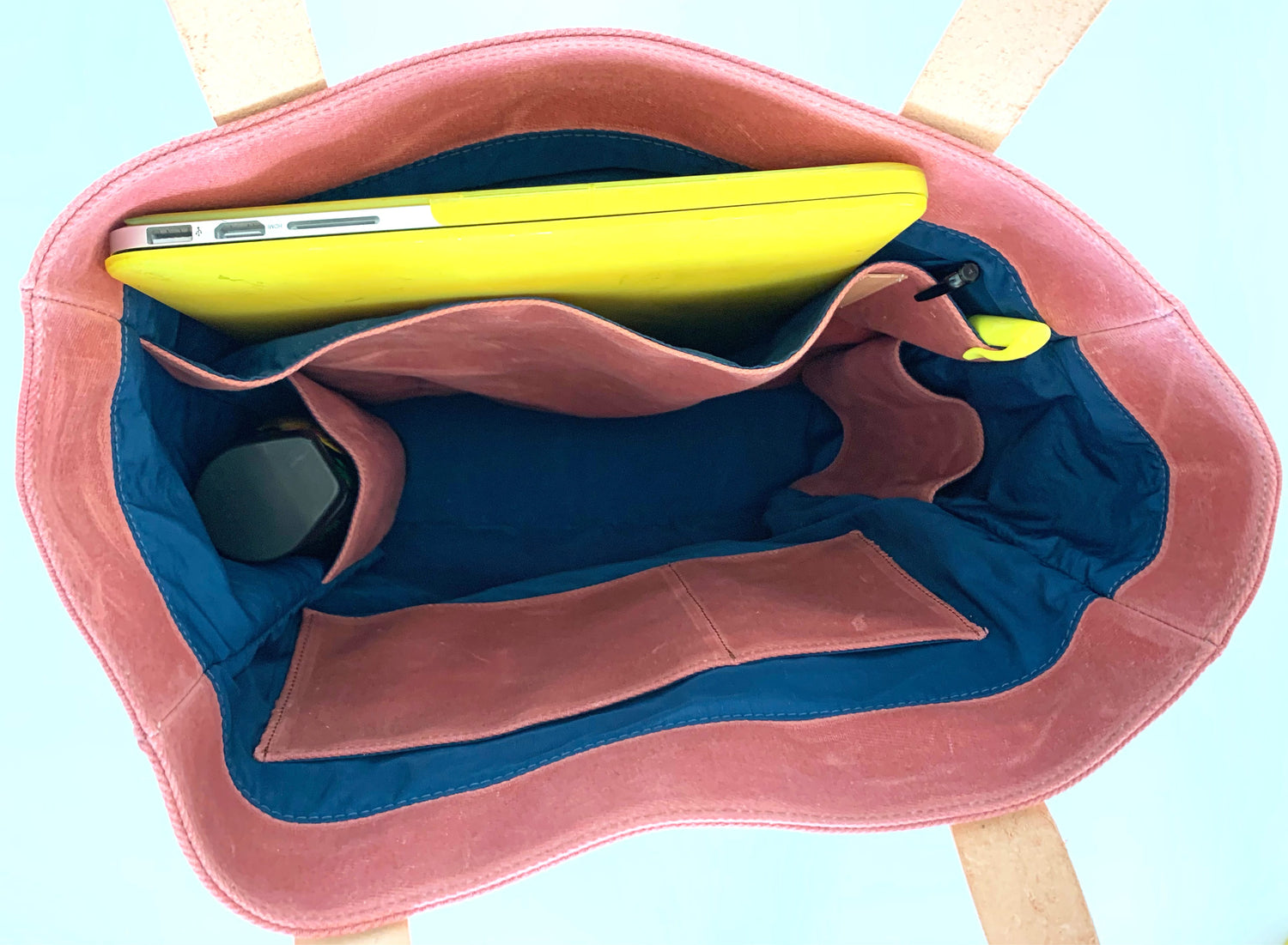 The must have pocket.
      The key component that switches this bag from a diaper bag to laptop bag, is the large interior side pocket.  This pocket can fit up to a 15" laptop (with case) standing straight up, books, folders, or a set of diapers, extra clothes, etc.  It's so versatile, take out the laptop and pop in the diapers!           Another function that I'm a bit too excited about and,  I believe, is a huge miss in bags is a dedicated pen holder. The pen pocket perfectly fits three pens with pen lids/hoods.  As a designer and paper daily planner user (yes, I'm one of those), I am constantly digging for pens and highlighters that are lost in the abyss of a bag.
It's a design choice.
      I was very strategic about the all important front pockets.  Vertical zipper pockets intentionally skim the edges of the bag so they seem to disappear rather than take center stage.  The pockets are offset, so one pocket is deeper than the other in order to give options to various carrying needs.  I use the larger pocket for my headphones, security badges, candy and extra key or something that I don't want to get lost in the interior of the bag. 
Hold my bottles.
     Inside, two pockets are designated to hold baby bottles, sippy cups, water bottles and even some coffee tumbler (not to mention beer and wine bottles, just saying). Since all bags are lined with taslan nylon, the interior can be easily wiped if there is a little spill. Obviously, if you aren't using the interior pockets to hold beverages, these pocket are great to hold whatever smaller item that you don't want to get lost in the mix (e.g. great for packs of tissues, small snacks, etc.
Perfect for your phone and then some.
      A mobile phone pocket measuring 4" w x 5" H is perfectly flush to the bag to insure the phone fits comfortably yet snuggly. I carry the bag typically on my right shoulder, so selfishly, I designed the mobile phone pocket to be on the left interior side so it is an easy grab for the phone. There is also a small interior pocket that compliments the mobile phone pocket.  I often use this pocket to hold my keys, small toys that need to be easily accessible (e.g. little legos) and the almighty pacifier.
In and out sunglasses.
      The other, smaller,  front zip pocket is designed to perfectly fit a pair of sunglasses, without the case.   I find that I usually have sunglasses on but never have a case so this is literally a built in compartment to house the sunglasses so they will not shift around yet is protected by the soft taslan lining.  I'm typically a right shoulder bag carrier, so I designed the smaller/ sunglasses pocket so that if I carried it on my right shoulder, the pocket is easy accessible to my reach.  Obviously, you can use this pocket for whatever you would like, for instance, keys, headphones, gum, etc. ... I was just so tickled to have this place to hold my sunnies! 
Easy access, yet hidden.     
     The back exterior holds a small "hidden" pocket that is a perfect fit for items that need to be easily accessible, yet discreet, from the outside.  I typically put my valet or garage gate tickets there (perfect size by the way) because I've learned that if I don't have them in the same place everytime, I can't seem to find them when I need them! On the back is also the lovely ( notebooks & honey )  logo stamped in leather. 
Comfy and sturdy handles.
     Each bag has two 1 1/2 wide straps made of 7-8 oz vegetable tan leather. These are sturdy straps with widths that are a comfortable fit on your shoulder, especially when the bag is loaded down with all of your daily essentials.  I love that there is a rawness to the underside of the handles which adds to the no nonsense-ness of the bag. 
This bag has "good stand".
     One of the important characters I really wanted to incorporate is that the bag, especially given the  large size, has "good stand".  Meaning that the bag is sturdy enough that it can stand up on its own.  As a large bag carrier, I often just want to plunk a bag down and this is especially important when you have a lot of items in the bag and need easy access to it.  Whether I'm at lunch with the kids or working in a coffeeshop, I often have the bag next to me and literally start throwing items in the bag as I go, especially when I have my hands full with the kids; having a bag with good stand makes your shot even easier.